About Us
The Other Side Artisan Collective was inspired by our desire to feel connected with other local artisans and people who love locally made products. We offer an inviting space where people can come check out all that Vancouver Island and surrounding areas have to offer, from artisan teas, to handmade soap, to screen printed clothing, eco friendly home wares and records! We have a listening station! So come make us a part of your day!
---
| | |
| --- | --- |
| Our History | Kristin and Chris met working in a restaurant in Vancouver. They had both been living and working in restaurants in the city for over ten years and when they had their first son they decided to take the leap and move to Vancouver Island. This was after much convincing on Kristin's part, as her family resides here and she grew up here. Chris on the other hand grew up in the big city of Toronto and wasn't yet accustomed to island life. His exact words when Kristin first approached him with the idea were "so what? you wanna go knit sweaters in coombs?" Funny...as this was pretty close to what Kristin had in mind, although she wouldn't admit it at the time. Chris came around eventually, and they did move to Coombs where the first seeds of the concept for The Other Side began to grow. Another little boy, two small businesses and a lot of learning later, Kristin and Chris decided to open the artisan collective they have been dreaming up over the past few years. All of their life experience seems to have guided them to this endeavor, and if it wasn't for the support of this amazing community, and of course their family and friends especially, The Other Side Artisan Collective would still be a dream. This is "our history" and THIS is just the beginning! |
Powered by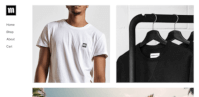 Create your own unique website with customizable templates.